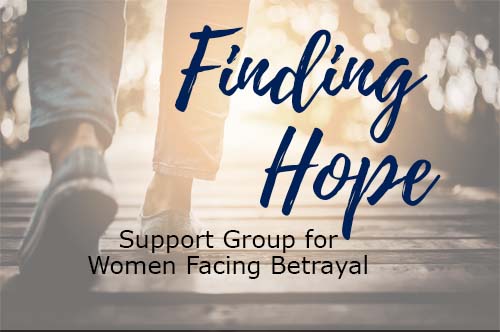 Are you a woman whose partner is sexually addicted?
Are you struggling with feelings of betrayal and hopelessness? 
Are you looking for support and understanding from others who are walking through this journey?
What:  Hope Redefined offers an 8-week Finding Hope Online Support and Study Group who will work through When Your Husband is Addicted to Pornography book by Vicki Tiede.
Who:  Finding Hope is exclusively for women who are still together with a man who is struggling with sexual addiction. (This group is not recommended for women who are separated or divorced. Please message us directly (support@hoperedefined.org) for specific resources for your stage of life) 
How:  Finding Hope is limited to 8 participants plus a facilitator from Hope Redefined Ministries who will meet through a weekly secure Zoom conference, participants will encourage and support each other.
Needed to participate: 
When Your Husband is Addicted to Pornography (preferably paperback versus Kindle edition – purchased separately thru Amazon or your local bookstore)
Access to High Speed internet or dataplan with Zoom video and audio capabilities
Notes:
If this group is full, Hope Redefined will offer an additional support group. Please email support@hoperedefined.org to be placed on a wait list. 
Scholarships for Finding Hope Support Groups are available. Please email support@hoperedefined.org for information.
Here is a video of Author, Vicki Tiede sharing her heart behind her book, When Your Husband is Addicted to Pornography